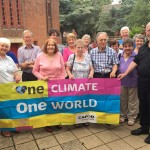 ---
THE CAFOD LIVE SIMPLY AWARD
Before the summer holidays parishioners from all three of our churches met to reflect on Pope Francis' encyclical 'Laudato Si'. Central to his message is how we see our role in the world that conforms with the vision of St Francis. The PPC have decided that we as a Parish should work towards gaining a LiveSimply Award for the Parish so I shall explain more at the Masses this weekend and suggest how we, as a parish, can live simply, sustainably and in solidarity with the poor.
Fr James.
A steering committee for working towards our LiveSimply Award has been meeting and we will be keeping you all up to date with information in the bulletin, on notice boards in each Church and on the parish website. Your representatives from each community are Hilary Bolger, Becky Walker, Aideen Shiell and Linda Dawson from Sacred Heart, Janet McIlwee, Mary Rando and Mary Edmonds from St. Helens and Katie Maidment and Rob and Clare Hardie from St John of the Cross.
Our Parish Action Plan (below) has been submitted to CAFOD and in due course Live Simply assessors will visit our Parish to see if we have achieved the Live Simply Award.
Actions to live simply
Main action: To use the weekly Parish Newsletter to suggest to parishioners ways in which we can all be involved in living more simply. We will have a box into which parishioner can place any ideas that they would like the parish to try. A new suggestion will be published every month. We will have a list to sign for those willing to take the suggestions on board
Other activities:
Encourage Parishioners to use the monthly Fair trade stalls and seek out Fair trade produce in the supermarkets and to encourage people to buy 'World Gifts' at Christmas rather than unnecessary luxury items
For the Parish to pray the 'Live Simply Prayer' each week during the Bidding Prayers at Holy Mass and to spend time in prayer and meditation in the Memorial Gardens in Sacred Heart and St Helens, and to explore the possibility of using some of the grounds for parishioners to grow vegetables.
Actions to live sustainably with creation
Main action: Recycling – Ensuring that Parishioners are aware of how to correctly use the local recycling facilities with the hope that communications with the local organisations will lead to even better local recycling methods.
Other activities:
Encourage parishioners to become 'MP Correspondents' who help raise awareness and understanding of the causes of poverty and injustice and to encourage them to support policies and activities that help poor people around the world.
Reducing wastage in the Parish by encouraging the use of LED bulbs and switching off lights and turning down thermostats in our churches and homes. In the future trying to reduce the number of paper copies of the weekly newsletter by encouraging people to sign up for a weekly electronic version.
Actions to live in solidarity with the poor
Main action: Supporting Refugees in Norfolk and elsewhere. In Norwich working closely with 'English Plus' by collecting bikes, tools and vacuum cleaners to assist with resettlement. Financially and politically supporting refugees in the Greek Islands and in Calais
Other activities:
Supporting the Cromer and Norwich Food Banks and North Norfolk SVP particularly during this Advent by parishioners having an alternative 'Advent Calendar' which involves donating a necessary food item each day throughout Advent. The boxes/bags of food can then be brought to each church and will be taken to the Food Bank for distribution.
'Coins for Cambodia'   each household will be invited to take home a glass 'thankfulness' jar. It will act as a visible reminder to be grateful for our own amenities e.g. clean water. The money raised will go towards water projects in North West Cambodia being organised by 'Support Cambodia'. The Parish has a well-established twinning link with the Parish of St. Francis Xavier in Svay Sisophon in Battambang Province, Cambodia.
The Project for November 2016 - 'Reverse Advent Calendar'
'Living in Solidarity with the Poor'
Our first challenge will be a 'Reverse (slightly early) Advent Calendar' for the Cromer and Norwich District Food Banks. If you would like to take part you will need to donate one item every day for 25 days in November from the list on the flyers in each church. These are items that the Food Banks really need at this time of the year. You can either fill your own box or bag at home or bring the items into Church and put them in the Food Bank collecting boxes provided. The filled boxes need to be returned to your Church, at the latest, by the weekend of the 4th December so that the Food Banks have time to distribute the food in time for Christmas.
'Save Every Drop' – 'Living Sustainably with Creation"
This month we hope to focus on Saving Water. In Laudato Sii, Pope Francis refers to our planet as our sister Mother Earth, and St Francis of Assisi referred to our precious commodity 'water' as Sister Water
How about using a cup or glass for your water when cleaning your teeth rather than running the tap?
2. Try to have a shower rather than a bath and then limit your shower to 3 minutes.
3. Collect rain water for your garden watering by fitting water butts to as many downpipes as possible.
4. Try using a bucket of water to clean the car rather than the hose.
Each Church has a suggestion box for you to give us your own suggestions.
Live Simply 'Reverse Advent Calendar' Project Update
The Parish has responded very generously indeed to our first Live Simply project, the 'Reverse Advent Calendar', and a total of 72 filled boxes have been delivered to the Cromer and District Food Bank and the Norwich Food Bank.  Many of the boxes had more than the 25 items suggested, so in all about 2000 items were donated.   The Food Bank volunteers were delighted and very grateful for our support.
The Project for December 2016 is CAFOD World Gifts
 World Gifts – The true spirit of Christmas giving. World Gifts are a fun and meaningful way to give virtual Christmas present to our friends and family. With each gift, you'll receive a certificate to pass onto a loved one, which explains how your donation and their gift will make a difference to some of the poorest communities around the world. During Advent let us take the time to think about gifts beyond Christmas presents – the gifts of our own life, the gift of creation and gifts of hope and mercy. Through World Gifts we can give our loved ones a great present this Christmas and we can also choose to give gifts of hope to others.
Live Simply Suggestions for December 2016
Is that light really necessary?
2.  Old clothes? Charity Shop or Clothes Bank
3.  Buy only what you need
4. Love God, People and Creation
5. I will live simply this year
6. Recycle Christmas Cards and Wrapping Paper
Live Simply Suggestions for January & February 2017
 Keep junk mail and burn it in a wood burner or on an open fire
2.   Use the local Charity shops to recycle your unwanted goods or presents of keep them and donate them to our Summer Fete
3.   Take old small electrical items to the recycling centres
4.   Review the contents of your fridge and store cupboards before going grocery shopping
     5.  Plan your menus for the week ahead before going food shopping.  Try this useful website 'Eat not Spend' eatnotspend.wordpress.com
      6.  Buy only the food you need and invite friends to share
      7.  Cook a double quantity and make your own 'ready meal' for your freezer
8. Make cooking fun and encourage your children or grandchildren to cook simple meals with you
Live Simply Suggestions for  March  & April 2017
1.   Support CAFOD Lent Fast Day
2.   Make contact with a lonely person
3.   Give away a smile or a kind work
4.  Greet a street seller and offer a word of encouragement
 5.  Brighten up someone's day with a visit
6.  Support the CAFOD East African Crisis Appeal
7.  Visit a friend in 'Residential Care'
8.  Take someone on an 'outing'
9.  'The best way to find yourself is to lose yourself in the service of others'
Live Simply Monitoring Questionnaire
Oct 2016 – March 2017
Please tick if you managed any of the following and give us some feedback or comments.
Did you take part in the Reverse Advent Calendar for the Food Bank? 
 51          32%                                                                                          
Did you try any of the Saving Water suggestions;
Not running the tap when cleaning your teeth?
130          83%
Having only a 3 minute shower?
86          55%
Fitting water butts to your downpipes?
92           58%
Using a bucket for car washing?
61           39%
Did you buy any CAFOD World Gifts this Christmas?   
14           8%
Are you trying to Love God, People and Creation?
102         65%
Have you made a resolution to live simply this year?
107         68%
Recycling
Did you take your old clothes to a Charity Shop or to a Clothes Bank?
136        87%
Did you try burning junk mail in a wood-burner or on the open fire?
40     25%
Did you recycle your Christmas Cards and Wrapping Paper?
130      83%
Did you recycle your unwanted presents to the Charity Shop?
74      47%
Did you take your old small electrical items to the recycling centres?
97      62%
Living Simply and Living Sensibly
 Did you try and switch off unnecessary lights?
142    91%
Did you try to buy only what you needed?
124    79%
Did you try and menu plan before going shopping for food?
106   67%
Did you cook an extra portion and freeze it for another day?
98   62%
 156 Forms completed and returned (180 distributed)
COMMENTS FROM THE MONITORING QUESTIONNAIRES
I will think more carefully about what more I could do.
You have inspired me to eat unwanted leftovers
We have done all these things for ages
Educate the young who are institutionalized where lights and heating are left on permanently at boarding schools and universities. They have not been educated to turn off lights or heating.   My children were forbidden to turn off lights at school and university hence they never think to do it at home
Wonderful project which encourages one to really consider the implications of using too much of the world's resources when there are those who have no sustainable resources
Get back GP 24 hours responsibility
No longer put loo roll down the pan – have a dedicated small waste bin in the bathroom, then burn the bag of paper on the fire in Cambodian style
'Live Simply' has really made me more aware and thinking about things more deeply
I do try to live simply but was doing so before I read the propaganda
Excellent initiative – most of which we already do
Suggestions in newsletter may prompt those who do not usually think about it
Keep up the good work! We try!
Always room for improvement!
The saving water suggestions completely miss the point of trying to save the planet. We live in England not the middle of a desert! Saving water with these suggestions might save a few pence but not the planet in any way. We should instead do things that take us out of our comfortable world
Making suggestions on a weekly basis does tend to keep you focused and reminds you to live simply
It is just common sense and it saves you money
I changed light bulbs to use less electricity
I cooked extra portions for freezing for Mum
Carry on the good work
Do not burn junk mail as it is salvageable
Many of these we do already
Great ideas and reminders. Thank you
Not yet taken old small electrical items to recycling
I don't wash my car
Not possible to fit water butts to down pipes
Burning junk mail is an environmental disaster because it causes pollution
I am trying to be more organised
This should really always have been part of our Christian life
Many of the suggestions are things we carry out on a regular basis to make our pensions meet household bills and food needs
I do not need to be told this. It is a normal way of life
I do not need reminding to live this way. I find it patronizing
I really think it is a shame we, intelligent adults, have to be treated in such an insulting and infantile way. Many of us observe these practices
a) because we have to for economic reasons
b) because we naturally don't want to be wasteful
Not everyone has access to an open fire or log burner so may be an option for recycling instead
LiveSimply Suggestions for May & June 2017
 1.  Make sure there is fresh water and food for your garden birds every day
 2.  Support the Plant Sale for Cambodia next Saturday at Sacred Heart, North Walsham
3.  Split open used tea bags and mix the tea leaves with your compost.  NB the bags don't decompose
 4.  Grow some extra produce to share or sell for charity at Church during the year
 5.  Plant bee and butterfly friendly plants in your garden, patio pots or window boxes
 6.  Turn off stand-by electrical appliances overnight e.g. TVs, Phone Chargers, Computers
7.   Boil only the water you need in your kettle (20% energy saving)
8.  Please sign a 'Power to Be' card  
LiveSimply Suggestion for July/August/September 2017
Consider changing to a renewable energy supplier e.g Ecotricity
Always use a full load in your washing machine or dishwasher. If you have one, choose the 'eco' setting
Hang clothes outside to dry, instead of using a tumble dryer
Pray for our Diocesan Jubillarian Priests
'Power to Be' - Thank you to all those who signed the 'Power to Be' petition cards. We returned 87 signed cards back to CAFOD, and many other people returned the cards themselves and others have signed the petition on line. There is still time to sign up on line if you so wish: cafod.org.uk/powertobe
Pray for the Homeless
Pray for Refugees
Pray for Persecuted Christians Worldwide
Pray for the Hungry
Care for Creation
Pope Francis has established 1st September as the World Day of Prayer for the Care of Creation so we will be having an outdoor Celebration Liturgy on Caring for Creation in the Memorial Garden at Sacred Heart, North Walsham on Saturday 2nd September at 10.30 a.m. This will be followed by Mass at 12 noon. All are very welcome to attend
Try to attend the Care of Creation Liturgy next Saturday morning
Take time to appreciate the Beauty of Nature
Pray for a World at Peace
Support the Cambodian Mass for the Holy Souls next Friday evening
Pray that we may be good stewards of our Earthly home
LiveSimply Suggestions for October and November 2017
CAFOD Harvest Fast Day 
Friday 6th October is Harvest Fast Day. CAFOD are focusing on helping farmers in El Salvador to sustain their families with good crops and harvests. With your help CAFOD is giving them fruit trees and strong seeds to grow. Please take home a Fast Day envelope this weekend and fast this Friday and give what you can to the collection next weekend.
Live Simply Award First Anniversary
To mark the first anniversary of working towards our LiveSimply Award we would like to plant a tree in each of the three church gardens.
Support the Coffee Morning for the Homeless on Sunday at Sacred Heart
Pray for Missionaries in the developing world
Pray for Fr. Greg and the parishioners of our twinned parish of St. Francis Xavier, Svay Sisophon
Reverse Advent Calendar - The LiveSimply Group would like to suggest that we once again take part in the 'Reverse Advent Calendar' for the Norwich and Cromer District Food Banks. There are flyers at the back of each church with suggestions of the items the Food Banks really need in the boxes over the next 25 days. You can either fill your own box or bag at home or bring the items into Church and put them in the Food Bank collecting boxes provided. The filled boxes need to be returned to your Church, at the latest by the weekend of the 3rd December so that the Food Banks have time to distribute the food in time for Christmas.
Take home a CAFOD World Gift Catalogue and buy some Christmas gifts for your friends and family in solidarity with the poor
Support Aid to the Church in Need's Red Wednesday on 22nd November in solidarity with persecuted Christians. For more information - www.acnuk.org/redwednesday
Live Simply Suggestions for December 2017 and January 2018
Give 10 minutes of your day to spiritual reflection
Try to be inclusive in your Christmas celebrations
Check your store cupboards and only buy what you need.
Christmas love is for life and not just for Christmas
Recycle only recyclable wrapping paper i.e. not glitter paper
Pray for our Parishioners visiting our twinned Parish of St. Francis Xaviou, Svay Sisophon
This month we are concentrating on supporting Refugees
Pray for refugees in all parts of the world
Pray for refugees in Calais and the charities that support them
COLLECTION FOR REFUGEES IN NORTHERN FRANCE
As part of our Live Simply commitment to supporting refugees, with your help, we would like to try and support the thousands of refugees still stuck in terrible conditions in Northern France.
Cambridge Convoy Refugee Action Group - (CamCRAG) is a group of volunteers working to help the refugees in Northern France and elsewhere. They send regular convoys to the camps and aim to raise awareness of the situation, fundraise and organise donations of clothing and other items. All donations go towards providing aid in the refugee camps or supporting the convoys. They have a convoy departing for Calais on the 23rd February so we would like to collect any of the following items over the next few weeks. The items donated will then be taken over to Cambridge for onward transportation:
Blankets and sleeping bags, socks, gloves, hats and scarves, small and medium waterproof jackets, men's short and long sleeved T shirts, jogging bottoms and jeans, small and medium men's jumpers and hoodies
If you would prefer to make a donation to CamCRAG go to: camcrag.org.uk
The following charity is also in great need of help:
The Refugee Community Kitchen, - "Feeding people without Judgement" This charity has served 1.5 million meals over the past 2 years, currently averaging 700 meals a day in Calais, Dunkirk and beyond – all involving delicious and healthy food.
On line donations to - refugeecommunitykitchen.com
Please bring your donated items to your church between the 14th – 28th January 2018
Thank you to everyone for the very generous response to the Calais Refugee Collection. 30 bulging bags of men's clothing have been sorted and taken over to CamCRAG in Cambridge on your behalf to be transported to Calais over the weekend of the 23rd February. CamCRAG were unable to accept the women's and children's clothing as they have sufficient in their warehouse, that clothing has been given to the FoodBank in Cromer for distribution to their clients.
CAFOD Family Fast Day – Friday 23rd February
With malnutrition still killing almost three million children a year, your fasting, prayers and donations on Family Fast Day will ensure more of God's children have enough good food to eat. Every pound you are able to donate this Lent will be doubled by the UK Government therefore twice the number of children can have the opportunity to grow up healthy and strong
 Theme for Lent – Fast, Pray and Give
Support CAFOD's Lent Fast Day next Friday
Fasting for others: Keep at it!
Take home the CAFOD Lent Prayer Card and use it every day.